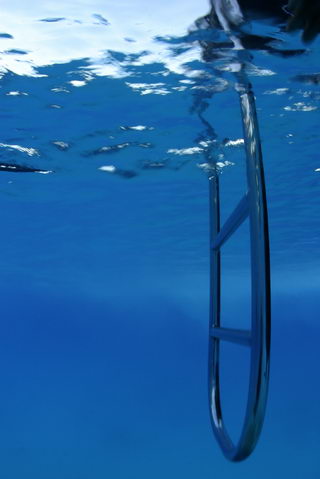 IMCA/TER Assists in the Development of Marine Ladder Safety Standards
Each year there are a number of people in the United States who are injured or killed by the propeller and/or hull of recreational marine vessels.   Many of the injuries occurred when a person came in contact with a spinning propeller as they were attempting to climb the vessel's rear ladder.  While the US Coast Guard and the American Boat and Yacht Council (ABYC) cannot control the actions of the captain or passengers, they can help prevent accidents by developing boating safety standards.
Recently, the ABYC began studying how ladder design affected the safety of a vessel. Because the ABYC needed an engineering firm that had expertise, education, and experience in both the maritime industry and accident analysis, CED Investigative Technologies Inc. was retained to perform the study. CED's long history in the maritime industry was crucial to the ABYC's ladder study.  IMCA/TER was originally founded by a group of United States Naval Academy graduates and professors.  With our heritage and education deeply rooted in the fields of Naval Architecture, Ocean Engineering, and Human Factors, it was a natural fit for IMCA/TER to determine if a better ladder design could prevent accidents.
As research is a critical phase of forensic engineering, IMCA/TER looked for accident trends in the US Coast Guard's Boating Accident Reporting Database (BARD).  In searching the BARD database, it was clear that the majority of accidents during rear boarding involved the lower limbs.  Based upon this and other studies, IMCA/TER hypothesized that a short ladder, as the standard currently called for, left passengers with their limbs exposed during boarding.  If the propeller was spinning or accidently engaged during boarding, a person could lose stability and allow their limbs to be pulled into the propeller.
IMCA/TER then travelled with the ABYC to a testing facility in Merritt Island, Florida where human factors was studied extensively with both short and longer ladders.  The results of the study were astounding.  Only a slight increase in the length of the ladder vastly increased the stability and limb control of the boarder.  During simulation of an engine start, a longer ladder decreased the susceptibility of the limbs being pulled into the propeller and allowed a boarder to continue up the ladder while maintaining control of their lower limbs. For a full report from the ABYC – Click Here
IMCA/TER is not only a forensic engineering company but also an engineering company that can use forensics to study and enhance accident prevention, standard adherence and many other areas.